How to get around in Mallorca
In order to complete this 4-days in Mallorca itinerary, you'll need to rent a vehicle. Unless you are planning on taking a car in a ferry to Mallorca, you will have to rent a vehicle to visit all the places in this list.
Renting a car in Mallorca can get expensive, especially in the summer months. However, it is the best option to get to know the island. It is worth the investment.
On our visit to the island, we rented a car and it was great. I recommend checking Auto Europe and Discover Cars to find the best deals.
4 days in Mallorca itinerary
Let's begin with this 4-day trip through Mallorca!
Day 1: Best coves in Mallorca
It is very likely that the main reason why you are traveling to Mallorca is to visit its incredible coves with crystal clear waters. So why wait any longer? On your first day on the island, I suggest visiting some of the most beautiful coves in Mallorca. Get ready to discover the Majorcan paradise.
DAY 1 SUMMARY IN MALLORCA:
Calo des Moro.
S'Almunia Cove.
Llombards Cove.
Pontas Viewpoint.
Figuera Cove.
S'Amarador Beach.
Portocolom.
🏨 You haven't booked a hotel in Mallorca yet? We stayed at Apartamentos Cala d'Or Playa, a 3-star aparthotel located very close to some of the best beaches on the island. We had a very comfortable stay. Plus, there is free private parking.
Caló des Moro, the most beautiful beach in Mallorca
We start the day in Calo des Moro, probably the most famous cove in Mallorca. Despite people not knowing much about it a few years ago, it is currently one of the most visited beaches on the island. The reason? Its incredible and calm waters of vibrant blue color. The bluest I've ever seen! We are lucky to have this natural wonder in Spain.
I recommend visiting the cove first thing in the morning because it tends to get really crowded. Also, there is hardly any sand. You will have to find a gap between the huge rocks that are piled up in the cove. Bathing is really incredible in the cove. You will feel like you are in a natural pool.
To get to Calo des Moro you have to park in the town of Cala Llombards and walk for about 15 minutes, depending on where you park.
Cala s'Almunia, a charming cove in Mallorca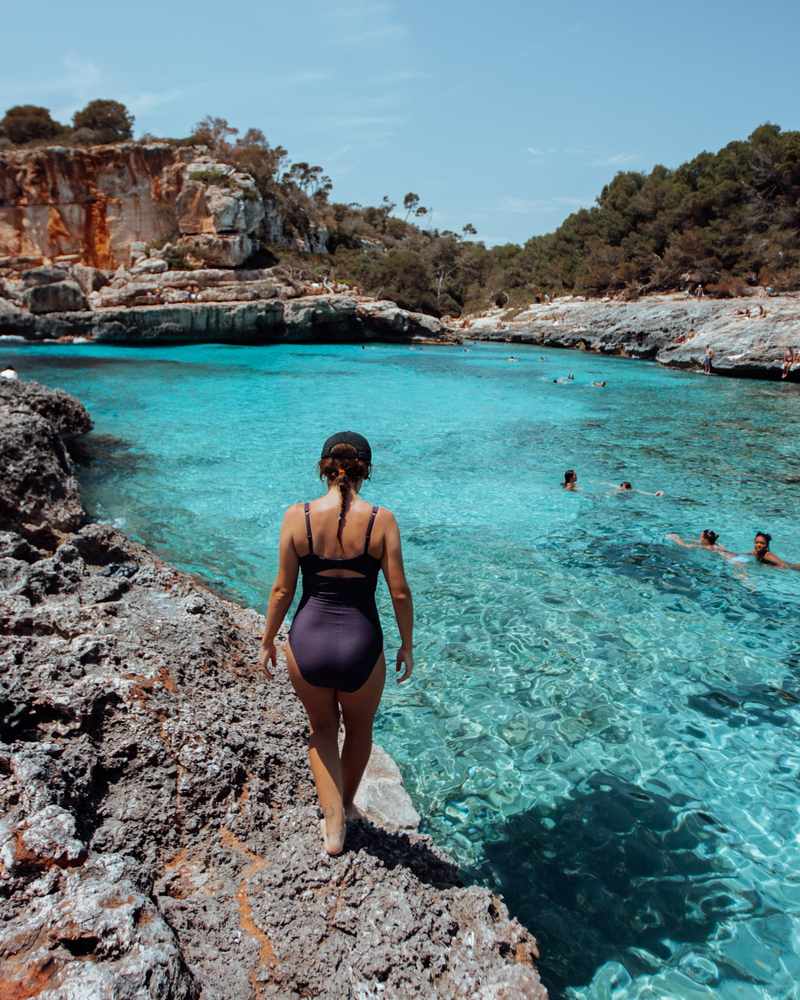 A few minutes' walk from Calo des Moro, you will find Cala s'Almunia. The little houses built around this cove make it one of the most picturesque coves on the island. Around it you will find many little corners where you can lay your towel on the ground and enjoy a good bathing session. Next to the cove there is a cave where you can cliff jump.
Llombards Cove, things to do in Mallorca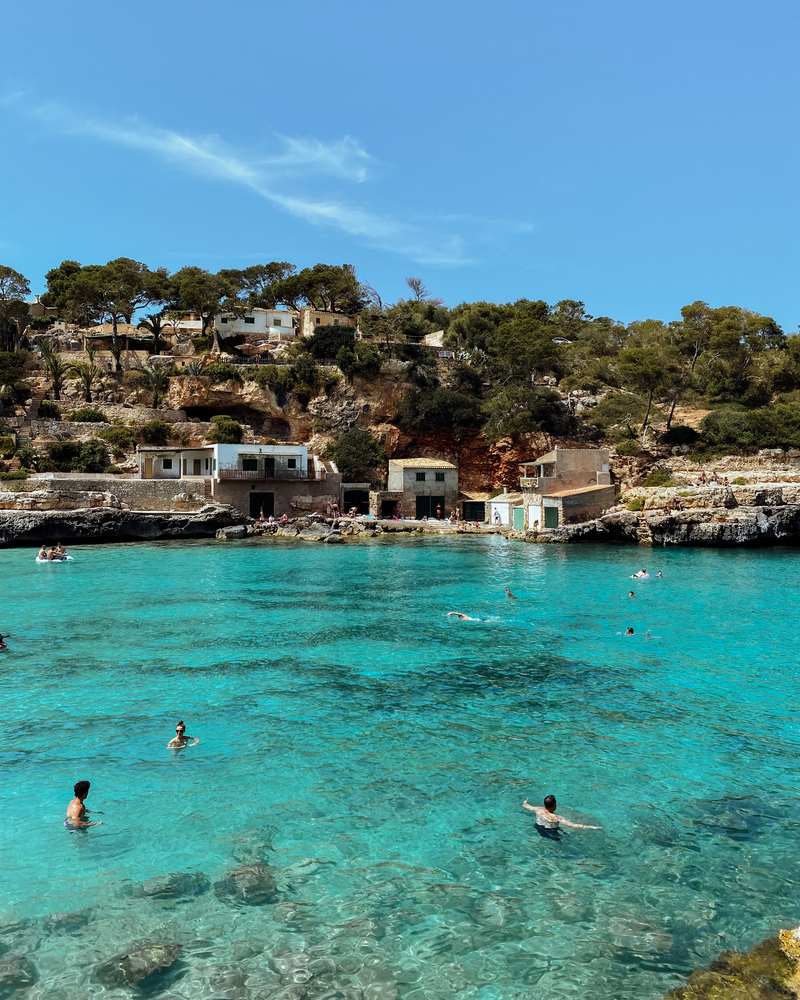 Unlike the two coves already mentioned, Llombards Cove has a good surface of sand where you can lay your towel and enjoy a few minutes lying in the sun. This cove is just as beautiful.
If there are many people on the beach or you just don't like the sand, there are also flat stone surfaces around the cove. There will be fewer people and you can jump straight into the water. Just go down the path on the right hand side of the cove to get there.
There is a parking lot located next to Llombards Cove. If you're lucky, you will easily find a space to leave your car.
Pontàs Viewpoint, an arc in the Mediterranean
Let's drift our attention away from the coves for a moment and talk about one of the most beautiful viewpoints in Mallorca. I'm referring to the Pontàs Viewpoint. From here you can enjoy a beautiful postcard-like view featuring the Es Pontàs arc. A true work of natural art!
Puerto de Cala Figuera, a charming fishing village
If you are spending 4 days in Mallorca, I recommend visiting most charming corners on the island, Port of Cala Figuera. This small fishing village has an incredible natural environment. Its main tourist attraction is the port which is surrounded by white houses with green doors near the water, drawing a very picturesque scenery. I recommend taking a walk next to the tethered boats.
Eating in one of the many restaurants in the area is a great idea. You'll have a full stomach before you arrive at the next destination if you decide to eat here.
S'Amarador Beach, located in Mondrago natural park
Mondrago Natural Park is located in Santanyi. It occupies a total of 1,893 acres, of which 235 are public property, allowing visitors to enjoy its nature. If you decide to visit the park; forests trails, farm fields, dunes and, of course, beaches await you. The most famous are S'Amarador beach and Mondragó cove.
We decided to visit S'Amarador Beach and really enjoyed it. We laid our towels and went for a nice dip in its waters. If you also want to visit Mondrago cove, you can do it through a paved path that runs along the coast. The views on the way to the cove are second to none.
To visit the Mondrago Natural Park, we parked in s'Amarador's parking lot. It costs €6 to park, regardless of how long you stay. From here, you only have to walk for eight minutes to get to the beach.
Tip: All the beaches and coves that I have named so far are located in or near Santanyi. If you travel to Mallorca searching for the best coves, I recommend staying in this area. If this applies to you, check out all the hotels in Santanyí that are still available as soon as possible, as it is a very popular area.
Porto colom, a must-see place in Mallorca
Portocolom is considered one of the most beautiful coastal towns in Mallorca. Its colorful houses, its authenticity and its natural environment are just some of the reasons why it has earned this title. Once you get to the town, I recommend going straight to the old town, built around Plaça Sant Jaume. Apart from touring its little streets, you should also visit is fishing port.
Once you finish strolling through the old town of Portocolom, head to Sa Punta de Ses Crestes Lighthouse. Make a short stop at the beginning of the trail leading to the lighthouse to enjoy views of the town from another perspective. You do not need to go to the lighthouse since the best place to enjoy the view is from the natural arch of Sa Cova Foradada.
You can take advantage of your visit to Portocolom and dine in one of its many restaurants. I recommend Mínim Gastrobar Portocolom.
Day 2: Sierra de Tramontana, one of the best places to visit if you spend 4 days in Mallorca
On your second day in Mallorca, I recommend visiting the most beautiful villages in Sierra de Tramontana, the places you will like the most on this itinerary of Mallorca in 4 days.
DAY 2 SUMMARY IN MALLORCA:
Valldemossa.
Sa Foradada Viewpoint.
Deia.
Soller.
Puerto de Soller.
Fornalutx.
Cala de Sa Calobra.
Visiting Valldemossa, one of the best things to do in Mallorca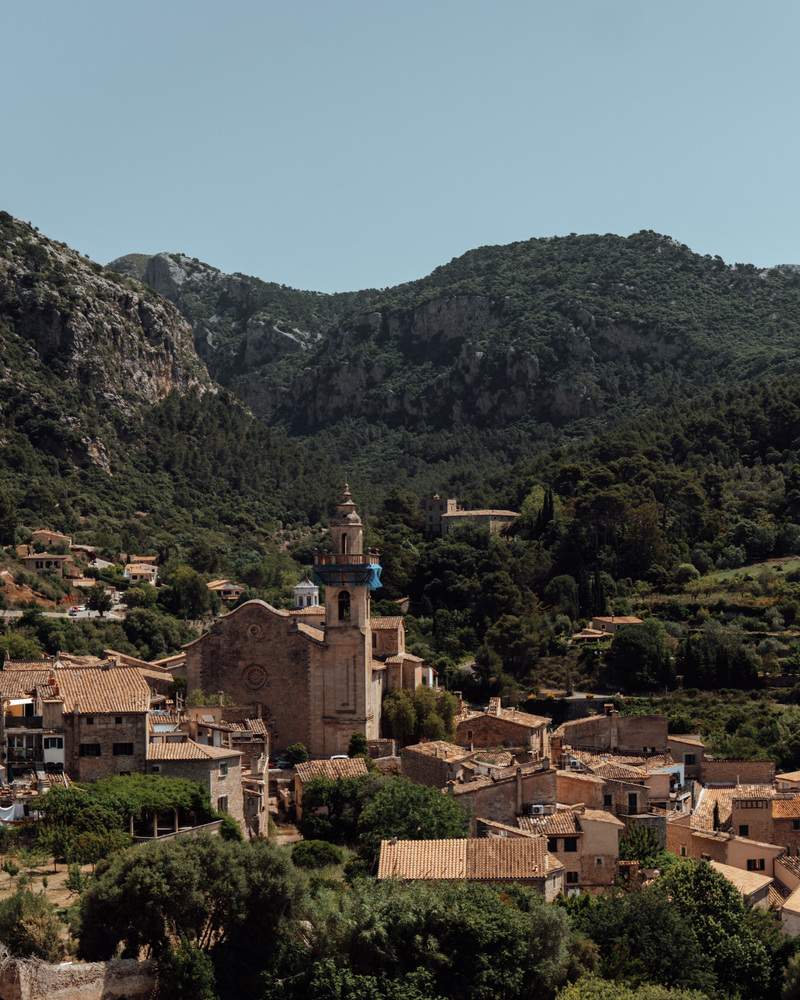 Although Sierra de Tramontana has several charming villages, Valldemossa gets most of the attention understandably so. This small town is a real treasure which is why it is considered one of the most beautiful towns in Spain. It has a privileged location, as it is surrounded by mountains. Inside, cobblestone streets and stone houses await you.
The best way to get to know Valldemossa is getting lost in its streets. Although there are several places that I recommend visiting: Plaza Cartoixa, where the Cartuja de Valldemossa is located; the Rei Joan Carles Gardens; Blanquerna street, the main artery in town; the Valldemossa Viewpoint (located next to La Posada Valldemossa restaurant); and Carrer Rectoria, a traditional street full of charm.
It is also very typical in Valldemossa to try the famous potato coca, prepared with eggs, flour, potatoes, sugar and butter.
Sa Foradada Viewpoint
On the way from Valldemossa to Deia, there is a viewpoint worth making a stop at. I am talking about the Sa Foradada viewpoint, a small peninsula that protrudes out from the coast. It's ideal to go at sunset but it can also be beautiful at another time of day.
The viewpoint is located next to Son Marroig, an old mansion from the 16th century that belonged to Archduke Luis Salvador of Austria. At the place you will also find a restaurant and a bar with a terrace, ideal to sit down and have a drink and watch the sunset.
Deia, a real treasure located in Sierra de Tramontana
We continue this 4-day itinerary through Mallorca by visiting the most beautiful villages of Sierra de Tramontana. This time, we'll start in Deià, a must-visit places if you are going to visit Mallorca in 4 days or even in less time. Its charm and incredible natural environment have attracted famous artists and writers for years, including the English translator Robert Graves.
Before entering Deia, or after if it suits you better, I recommend walking along the walkways that surround it. In them you will find a unique perspective of the town and its beautiful stone houses, built in front of a rocky massif with the blue sea in the background.
If you feel like going for a swim before heading to the next location, you can go down to Deià cove, a picturesque cove where you will find some little houses and a couple of restaurants.
Visit Soller and its famous tram, one of the best things to do in Mallorca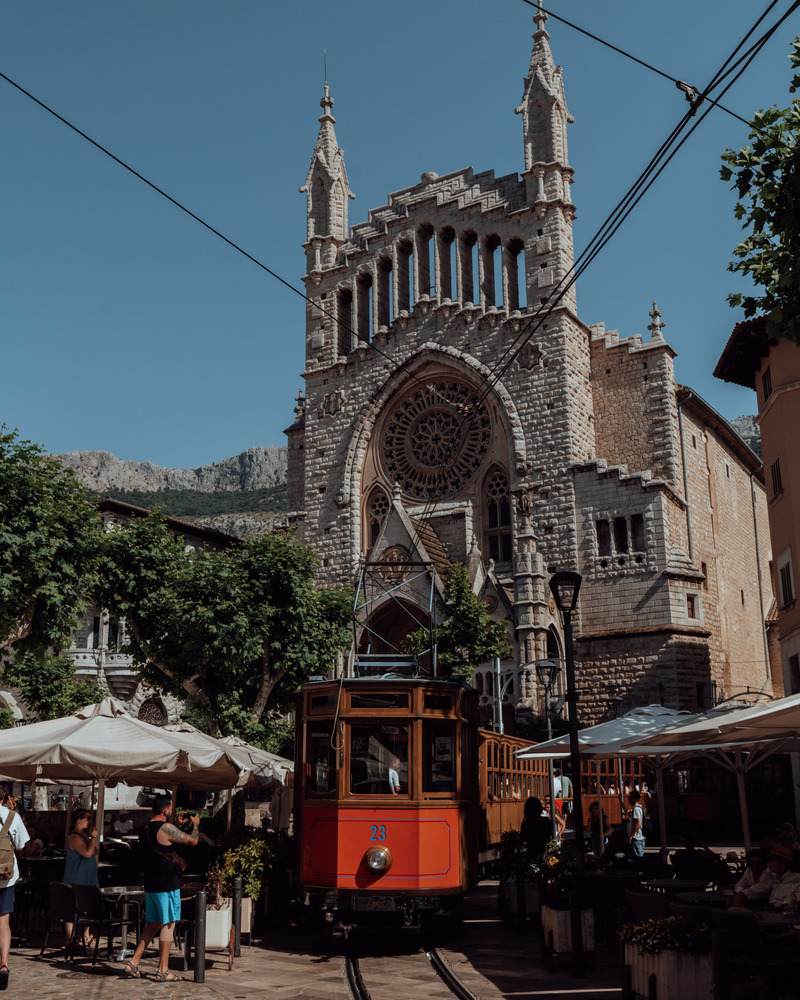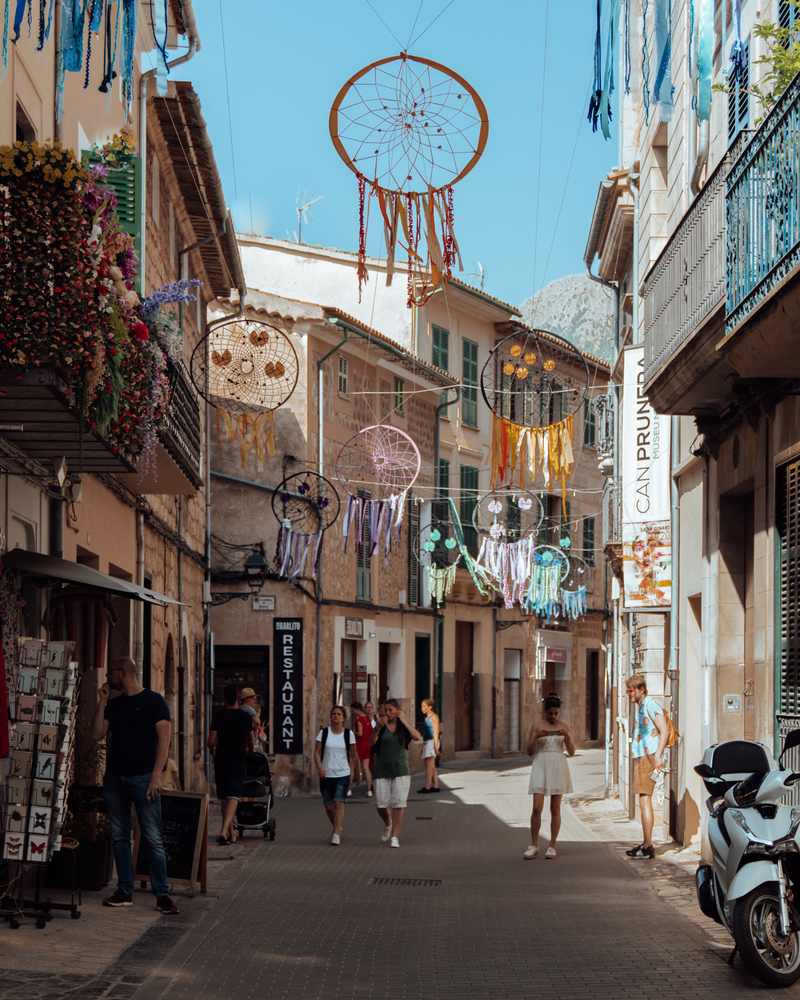 Sóller, located between orange plantations, is also one of the most beautiful towns in Mallorca. Within its charming historic center, the Church of Sant Bartomeu stands out. It is located in the Constitution Square. Its attractive grayish limestone facade, created by Joan Rubió I Bellver, an apprentice of Gaudí, is striking. Inside, there is a Gothic-style temple with a rectangular floor plan that awaits you.
You will find one of Soller's most picturesque places in this square, specifically when the famous Sóller Tram passes in front of the Church of Sant Bartomeu. This tram connects Sóller with Port of Sóller, the next stop on this 4-day itinerary through Mallorca. I must mention not to miss Banco de Sóller and Carrer de Sa Lluna.
Puerto de Soller, a great place to eat with view of the sea
After visiting Soller, it's time to get to know Port of Soller, one of the best places to visit in Mallorca. This picturesque port surrounded by mountains was an important piece that aided the development of the town of Soller. Today it is an important tourist center. I recommend walking and eating in one of the many restaurants located by the sea. We ate a delicious meal at Es Racó d'es Port Restaurant .
You can also visit Cap Gros Lighthouse, Del Mar Museum or Picada Tower, a watchtower built in the 17th century to defend against pirates and corsairs. If you want to swim, you can do it at D'en Repic Beach.
Fornalutx, another charming town in Mallorca
For some reason, on my trip to Mallorca I did not visit the little town of Fornalutx. Big mistake! I hope you don't make the same mistake and instead, opt to take a pleasant walk through this little town built at the foot of Puig Mayor, the highest point in Sierra de Tramontana and in Mallorca.
There are beautiful narrow cobbled streets and charming stone houses in Fornalutx. Do not forget to walk the streets of Carrer Esglesia, Carrer del Metge Mayol and Carrer de Sant Sebastiá. Also, do not forget to visit Plaza de España, the town hall and the church.
Sa Calobra Cove and Torrent de Pareis
Visiting Sa Calobra Cove is probably one of the best things to do in Mallorca but it is also one of the most complicated places to access. You can visit the cove by sea, taking a boat in Port of Soller. You can book a boat trip to Sa Calobra here in advance. If you are going to do it this way, due to the boat schedules, you will have to modify the itinerary for this day a bit.
You can also visit the cove by land (road). From Fornalutx, it will take about an hour by car. You must know that you will have to cross a section full of very sharp turns. The famous Nus de Sa Corbata, a turn where the road overlaps creating a loop, is located here.
From both the port and the parking lot, it takes just under ten minutes (walking) to get to Torrent de Pareis and Sa Calobra cove. Now it's your turn to enjoy this incredible natural wonder.
Day 3: Trip through the northern part of the island
If you want to visit more charming towns, spectacular beaches and viewpoints that will remain etched in your retina, you will really enjoyed your third day in Mallorca. You have to go to the northern part of the island to discover some of the most incredible places to see in Mallorca in 4 days.
SUMMARY OF DAY 3 IN MALLORCA:
Pollensa.
Alcudia.
Muro Beach, Coll Baix Beaches and Formentor Beach.
Es Colomer viewpoint.
Formentor Lighthouse.
Pollensa
Visiting Pollensa is one of the best things to do in Mallorca. It has a spectacular natural environment, as it is very close to Sierra de Tramontana and several spectacular beaches. As we have seen in other towns in the area, stone is heavily used in the architecture, which you will see both on the streets and on the houses' facades.
During your visit to Pollensa, do not skip on places like Plaza Mayor, El Calvari (a chapel where you will have beautiful views of the town) and Puig de Maria Sanctuary. Although what you will end up enjoying the most will be getting lost in the narrow streets of the historic center.
Alcudia
Along with Pollensa, Alcudia is another small town worth visiting in northern Mallorca. It is a town of Roman origin. I recommend taking a walk through its historic center while visiting some of the most beautiful places, such as the church of Sant Jaume, Puerta del Moll and the Wall of Alcudia, where you can go for a walk. Just outside Alcudia you can also visit the Roman city of Pollentia.
Do not forget to visit Puerto de Alcudia, the most important tourist center in northern Mallorca. It is a popular destination for families. If you are going to travel with small children, this town is a very good option to stay on the island. If you are interested, take a look at the hotels located in Puerto de Alcudia that are still available.
Muro Beach, a perfect place for bathing
How about continuing the day cooling off at a beach? If it sounds like a good plan to you, one of the best places to swim in this area is Playa de Muro (Muro Beach), a long beach with crystal clear blue waters and golden sand. It measures about 5 km long and is divided into several sections. The most pristine and beautiful area is Es Comu.
Other beaches that you can visit in the area are Coll Baix Beach, which requires a small hike to access, and Formentor Beach.
Es Colomer Viewpoint, the best views in all of Mallorca
One of the best things to do in Mallorca is visiting Es Colomer viewpoint. The viewpoint offers some of the most spectacular views of Mallorca. It measures 200 meters high and allows visitors to enjoy an incredible landscape featuring the cliffs of Sierra de Tramontana and the Mediterranean Sea. It's incredible!
Formentor Lighthouse
When I visited Mallorca, Formentor Lighthouse was closed to the public. However, you cannot miss this incredible place as it is the most beautiful lighthouse in Mallorca. The lighthouse is built in the edge of Cabo de Formentor, on very steep terrain. It has a beautiful natural environment. I recommend going at sunset to see it in all its glory.
Day 4: Rei Beach and Palma de Mallorca
It is now time to visit Palma de Mallorca! You can spend the entire day strolling the capital of the island. However, if you're still in need of more sand and sunshine, I recommend visiting a beach that is fairly close to Palma.
SUMMARY OF DAY 4 IN MALLORCA:
El Rei Beach (Calvia).
Palma de Mallorca.
El Rei Beach, located in Calvia
If on your last day in Mallorca you want to visit the capital but also take the opportunity to visit one more beach, I recommend visiting Playa del Rei, located in the Calvia area. We spent our last morning of the trip here and we had a great time. It is a small cove with crystal clear waters and fine sand. There is a pine forest nearby, which is great if you are looking for some shade.
The beach is small but not as crowded as other beaches in the area, such as Mago Beach (nudist beach), so I am almost certain that you will be able to find a spot on the sand. Going early will help. If you go from Palma or later return to this city, I recommend making a stop at the Bellver Castle.
Palma de Mallorca, spend some time in the capital
I really liked the city of Palma de Mallorca because it has a very welcoming atmosphere and very pretty streets. Walking through the city is very pleasant. The Cathedral of Palma de Mallorca, built between the fourteenth and sixteenth century, in Gothic style, definitely stands out. Do not miss the views of the cathedral from Parque del Mar. It's incredible!
If you want to get to know both the Cathedral and other tourist attractions in the city, I recommend booking a free tour of Palma de Mallorca. The tour lasts 2-hour and you'll be accompanied by a local guide. If you book the tour, you will be able to learn more cultural and historical information about Palma. At the end of the guided tour, you can pay a donation.
Other places that you should visit during your visit to Palma de Mallorca are Plaza Mayor, the Lonja de Mallorca and the Royal Palace of La Almudaina. Although the best thing to do is to get lost in the streets of the old town. I also liked the Santa Catalina neighborhood a lot. It has a more youthful atmosphere and there are many restaurants and cafes.
Do not miss my article on what to see in Palma de Mallorca in one day to plan your visit to this beautiful city.
Where to stay in Mallorca
If your plan is to spend 4 days visiting Mallorca, I think the best option is to base yourself in one place. Doing so will make day trips from your accommodation to the rest of the island very easy. I think it is more comfortable to do it this way because, once you enter your hotel, you will no longer have to worry about booking a hotel: checking in and out, moving luggage, waiting times, etc.
If you prefer, it is also a good idea to plan a route which does require you to change hotels. To do this, you should know which are the best areas to stay in Mallorca. You can find hotels in every corner of the island, so you won't have any problems in that regard. Also, by not having to return to the same hotel every day, you may save some time.
For those looking for beautiful hotels, do not miss these romantic hotels in Mallorca, perfect for those traveling as a couple.
1. Staying in Palma de Mallorca and surroundings
If you decide to stay in one place, I recommend staying in the outskirts of Palma de Mallorca. Being the largest city and the capital, it is very well connected to the rest of the island. It is important that you choose a hotel with a parking lot since parking in the city or its surroundings is expensive or difficult.
Below, there is a list of some of the best hotels in Palma de Mallorca and surroundings that have parking. There are options for different budgets:
2. Sleeping in Santanyi, next to some of the best coves
As I have already mentioned in the article, staying in the Santanyi area is a great option if you want to visit many of the best coves in Mallorca. You can visit places like Calo des Moro or Llombards cove, apart from many other spectacular beaches. If you stay here, you will not be as well connected as in Palma De Mallorca. That is why I recommend spending a couple of nights and not the entire stay.
Below are several hotel options in the area:
3. Saying in Alcudia, great option for families
If you are traveling with small children, Alcudia and Port of Alcudia are great options to stay in Mallorca. Here are a couple of hotels that are worth staying in:
Map of Mallorca: 4-day itinerary
In the following map, you can see all the best things to do in Mallorca as well as places to visit. In addition, I have pointed out some of the hotels that I recommend, with their respective links to Booking.
If you need more information to plan your visit to this island, take a look at my Mallorca travel guide. You will find a wide variety of tips to prepare your trip.
Do not miss my Spain travel guide to know all the information about the country.
I hope that this article on the best things to do Mallorca in 4 days has been very useful for you in planning your trip to this Balearic island. If you want to share your experience or have any questions, do not hesitate to leave a comment or email me. Until next time, travelers!